The school is now taking part in the Accelerated Reading programme.
Accelerated Reader Advantage (ARA) combines two key elements of baseline assessment and personalised reading practice to promote reading for pleasure and encourage pupils to use reading to learn.
Motivate pupils of all ages and abilities to read more and better books

Diagnose problems and direct ongoing reading practice
Raise literacy standards amongst all pupils from Years 3 to 6

Develop a lifelong love of reading in our pupils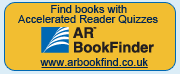 Children in KS2 use a software program called Renaissance Place at school. This program has a special feature called Renaissance Home Connect, which the children and parents can access outside of school from any computer with an Internet connection. Renaissance Home Connect is fun and easy to use. It allows the teacher, the parent , and child to share information about the child's progress in Accelerated Reader.
You can log in to Renaissance Home Connect from any computer with an Internet connection and compatible browser. For a list of compatible browsers, click here.
User Name: This is generally your child's first name (plus initial of second name where there are two children with the same Christian name in school.)
Password: Please ask at reception for your child's password or see below.
Please feel free to use the Contact Form for this information. Please indicate that you would like the above information and give your child's name, class and date of birth.
If you'd like to receive emails showing your child's quiz or test results, click the 'Email Setup' link in Renaissance Home Connect and follow the directions. To be sure these emails reach your inbox, add [email protected] to your address book. If you have questions about Renaissance Home Connect, please do call into school or use the Contact Form.